About Montserrat Serra
Montserrat Serra is a mother of three kids who engaged her love for art with motherhood excellently. Born and raised in Granollers, a small town near Barcellona, she still lives and works there.
Montserrat grew up in a creative family, as she explains to Hue&Eye:
"

My parents had that necessary sensibility that makes you see life from a creative point of view."

 
She has always been drawing, painting, or writing, although becoming a mother led her to choose art as a life path. 
As for today, Montserrat considers herself an artist working for four years with total commitment. Her creative approach is intriguing because of the connection between human development and art. The therapeutical discipline she undertakes to depict her abstract paintings is comparable to human blossoming, intending to express not only the final reach but rather the whole emotional journey.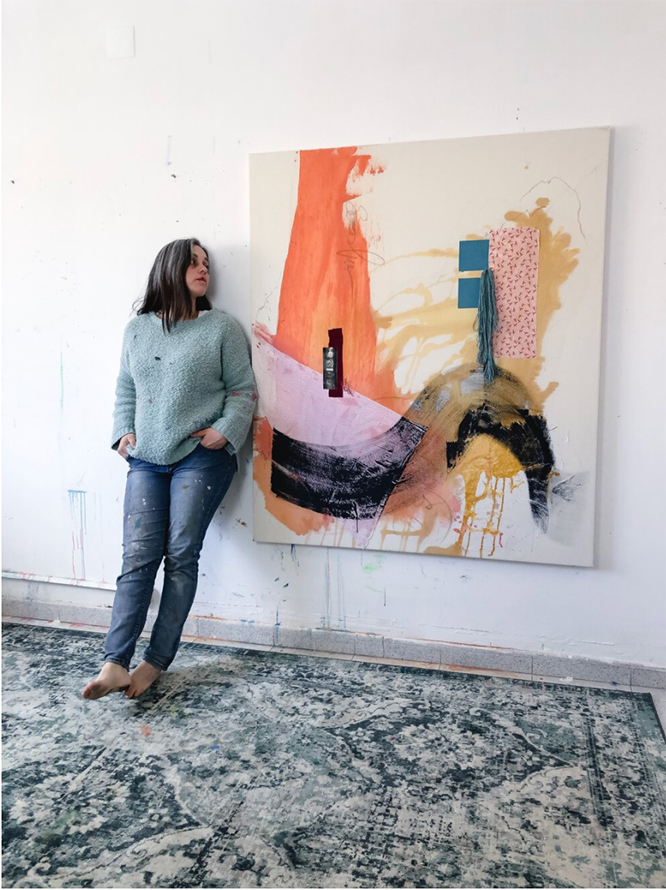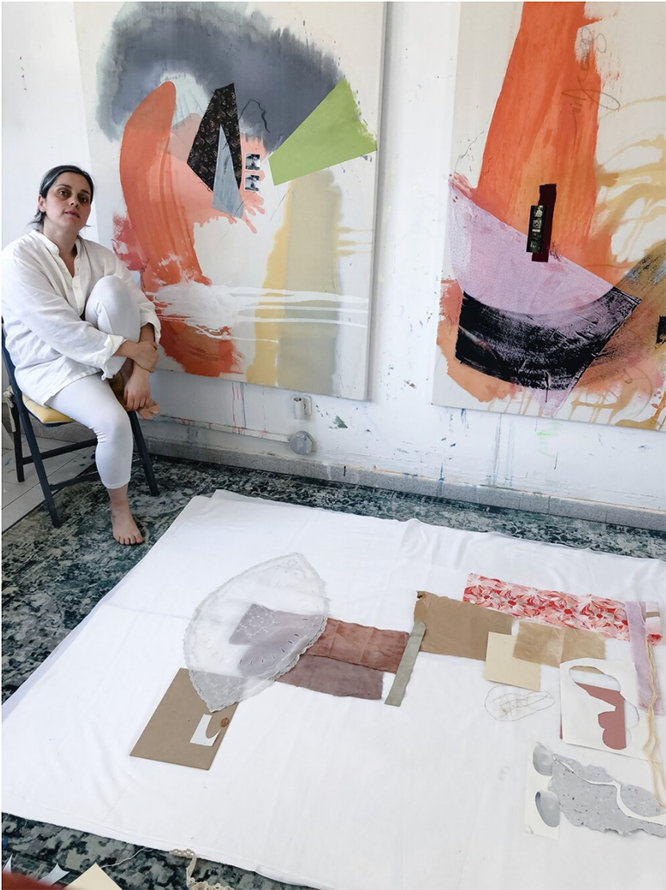 Art Style And Technique
Montserrat continuously explores human fragility to show the natural flaws she interprets with a poetical touch.
Her creative language arises from collages and abstract strokes. She explains that before the COVID pandemic, she used to create abstract collages with pieces of fabric on canvas. The main feature of her artworks is the bright and vivid colored compositions that relate to all different textures.
Throughout the lockdown months, though, Montserrat, unable to reach her studio, explored an ephemeral collage technique, as she defines it. She made this out of all the waste materials available in her house. Montserrat considers this an exciting new method. She is unsure if this will remain a style she wishes to use in the future.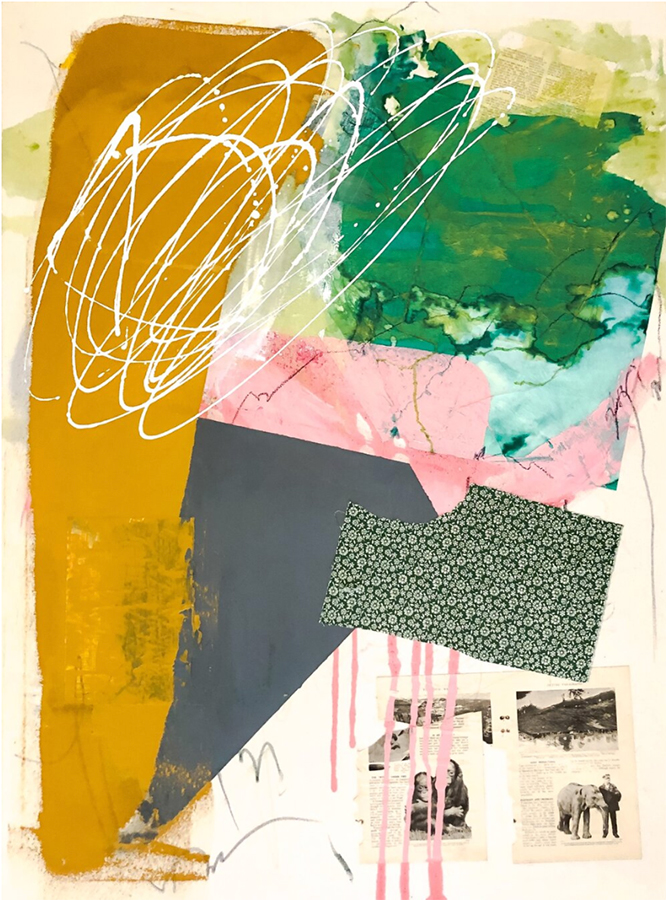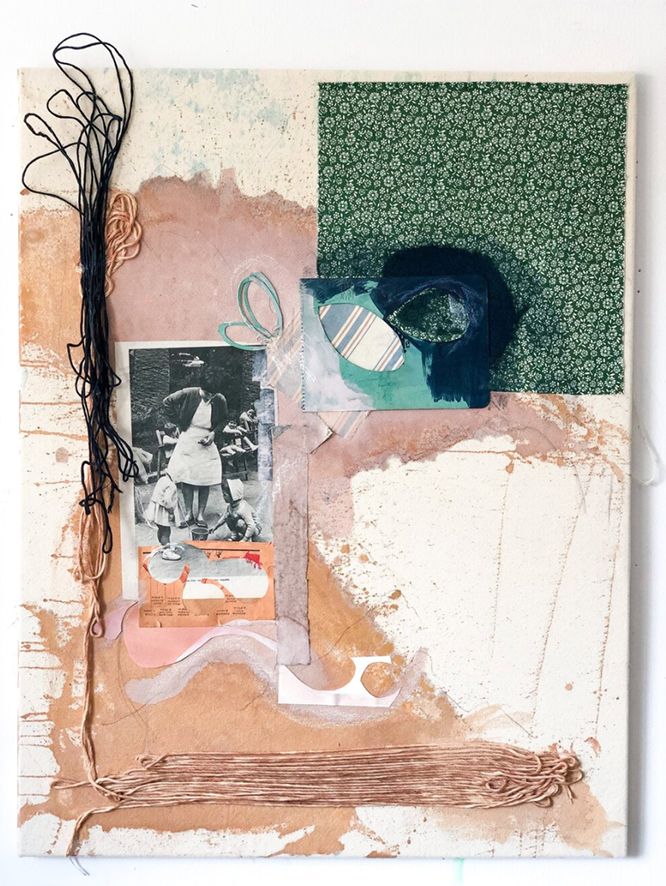 CREATION AND MEDITATION ARE ONE AND THE SAME.
We asked Montserrat what drove her to make art. To this question, she genuinely replies how her daily life satisfies her inspiration, like a life with children is itself filled with chaotic, unexpected, and beautiful challenges.
"Making art fills my soul with the energy I need to raise my children with authenticity, patience, and love."
What dramatically influences her work through the years is her studio space. She initially used to work wherever she could in her house, arranging a workspace in every available corner of a messy house filled with her kids' energy.
Nowadays, she owns a studio space where she may spend a whole morning working and concentrating, even if she still likes to engage her children with her art and often bring them to the studio.
"My children are a big part of my art. Sometimes productively, by adding things, participating in the creation of backgrounds or directly drawing on the canvas, others indirectly just with their natural actions." 

Montserrat's Daily Routine
Other elements of relative importance to Montserrat's creative approach are yoga and meditation. She explains to us how, before starting to work, she will give water to her plants, exercise with some yoga, and meditate for a few minutes to practice journaling.
"
This keeps me in the present and helps me focus on the topic I want to work on."
Montserrat aims to help people to reconnect with authentic feelings of comfort through art. She believes that although we often may experience sensations of denial or fear in life, there is always a familiar place to keep ourselves safe and sheltered.
"I would like to transmit to people the calm and peace of a summer afternoon breeze."
Her art-therapy background is well visible in her art, which inspires and highlights her creative-communicative skills.
Montserrat is currently working on a collaboration to sell her printed artwork. She wishes to continue investigating collage on canvas techniques to reach a wider audience sensitive to her creative and therapeutic approach to art.